Tulsa Business Lawyer. Tulsa Business Attorney.
Tulsa Business Attorney
The Tulsa business law firm of James, Potts & Wulfers undertakes challenging business lawsuits is comprised of experienced attorneys and trial lawyers that have a proven track record of success in representing clients in federal courts and state courts.
Our firm is prepared to undertake the most challenging business lawsuits providing each client with an expert level of personalized legal service.
We offer experienced Tulsa business attorneys that can resolve any business crisis even the most complex business litigation matters. As a leading Tulsa business law firm we have experience in Oklahoma state courts, the Oklahoma Court of Civil Appeals, the Oklahoma Supreme Court, federal district courts, federal circuit courts of appeal and the United States Supreme Court.
Tulsa business lawyers with experience in:
Alternative Dispute Resolution
Articles of Incorporation
Business ADR
Business Contracts
Business Entities Law
Business Tax Disputes
Business Tax Matters
Charities
Commercial Law
Company Reorganization
Construction Law
Contract Law
Corporate Governance
Employment Contracts
Employment Law
Finance
Financial Institutions Law
Insurance Law
M&A
Mergers and Acquisitions
Non-Compete Clauses
Non-Disclosures
Non-Profits
Project Finance Law
Tulsa Family Business Lawyer
Representation of Employers in Unemployment Compensation
Vendor Contracts
Video Profile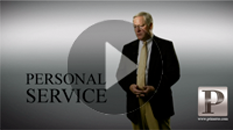 Attorney David Wulfers is an award winning Tulsa business lawyer recognized for his performance in the areas of business law, bankruptcy, tax law, real estate law, wealth management and estate planning in Oklahoma.
Tulsa Business Lawyer – Provides Expertise in Tax Structures and Business Transfers
The Tulsa business attorney counselors at James, Potts & Wulfers guide clients through the legal maze of business taxes and tax structures and most of all, the real world ramifications of establishing new businesses in Tulsa, Oklahoma. Our Tulsa business lawyers have successfully assisted many new business startups in establishing their company drafting documentation, legal papers and articles of incorporation. We also provide guidance and oversight in arranging business financing (bank loans, equity investments, venture capital, commercial loans, facility and equipment financing, etc). An experienced Tulsa business lawyer at James, Potts & Wulfers also helps Oklahoma companies as they grow and prosper. Contact a Tulsa business attorney for help in managing the day-to-day legal and compliance issues faced by new business ventures and startups. We also have expertise in Oklahoma business taxes and our business trail lawyers have many years of proven success in managing Tulsa business litigation cases. Through sound case analysis our Tulsa business lawyers form sound strategies that help Oklahoma companies minimize legal exposure and reach their business goals. Trust James, Potts & Wulfers to deliver quality representation in the field of business law for your next business venture.
Our Tulsa business law firm has a diverse client base ranging from individuals and new business startups to medium-sized businesses, private companies and major publicly traded companies. We help Tulsa businesses and also can help companies get established with facilities in the Port of Catoosa (which is part of the McClellan Kerr Navigation System), as well as other popular business enterprise zones in Oklahoma drafting lease agreements and rental contracts for decades. Our Tulsa business attorneys and trial lawyers bring substantial expertise to any legal issue a business client may face. Tulsa business litigation services also aid clients at all stages of the pretrial process, whether it be arbitration, mediation, facilitation, or case evaluation. We work with businesses both large and small, whether it be corporations, limited liability companies, partnerships, or sole sole proprietors helping business owners and management teams with a comprehensive range of business and commercial services, including and without limitation to:
Antitrust Litigation
Banking
Borrower Litigation
Borrower Loan Workouts
Business Dissolution
Business Formation
New Companies
Business Development